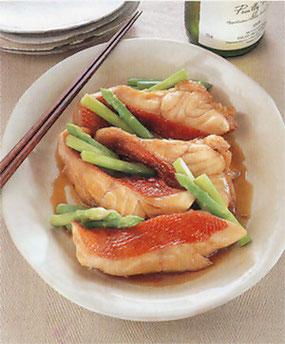 4 small, whole flounder or other white fish, such as plaice, turbot, or angler fish
8 green asparagus spears
Sauce
3 tablespoons sugar
1/2 cup sake (or white wine)
1/2 cup YAMASA soy sauce
3 tablespoons mirin (sweet sake)
1/2 cup water
Conbine all of the sauce ingredients in a large saucepan and bring to a boil, stirring occasionally. Reduce heat to a simmer.
Add the fish, skin side up. Cook with lid on the pot, allowing the flavors of the stock to be absorbed (taking care not to burn the dish).
Bring water to a boil on a separate pot. Add the asparagus and cook until slightly tender. Serve with the fish.