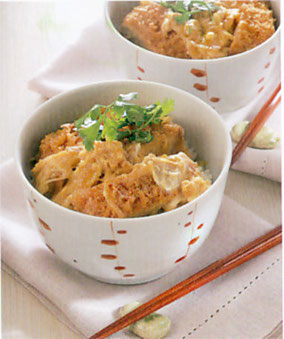 4 pork loin cutlets (approx. 80g)
Flour
1 Egg (beaten)
Breadcrumbs
Vegetable oil for deep frying
3 cups short-grained white rice (cooked)
A sprinkle of salt and pepper
Sauce
2 cups dashi stock
5 tablespoons YAMASA soy sauce
5 tablespoons mirin (sweet sake)
1 onion (halved and thinly sliced)
8 eggs (beaten)
Make inward incisions in the fat at the edge of cutlets in order to prevent the meat from curling during deep frying. Season both sides with salt and pepper. Dust with flour. Dip in beaten egg and coat both sides with a thick layer of breadcrumbs.
Heat a generous amount of oil in a heavy-bottomed pot or a deep fryer to a medium high temperature 180℃ approx. and deep fry cutlets one at a time, turning 2-3 times, until golden brown.
Remove cutlets, drain on absorbent paper and cut across into 2cm slices.
Mix dashi, YAMASA soy sauce, and mirin to create a sauce.
From here, the dish must be prepared one serve at a time. Pour 1/4 of the sauce into a small pan and add 1/4 the sliced onion. Cook over a medium high heat until the onion becomes soft. Reduce the heat and place one portion of the sliced cutlet onto the onion. Slowly pour 1/4 of the egg over the cutlet, cover, and cook for approx. 2 minutes, until the egg begins to set (do not cook the egg until it becomes hard and dry).
Put 1/4 of the hot rice into a small bowl. Cover the rice with the cutlet and egg, using all juices. Let them seep sown into the rice, then garnish and serve immediately.